Welcome to Stevenson Middle School!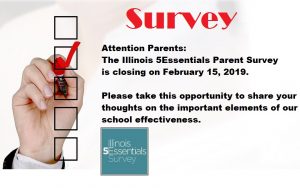 Attention Stevenson Parents:
The February 15th deadline for the Illinois 5Essentials Survey is rapidly approaching.  Please click on the link to take this important survey:
What are the 5Essentials and the 5Essentials Survey?
5Essentials is an evidence-based system designed to drive improvement in schools nationwide—it reliably measures changes in a school organization through the 5Essentials Survey and provides individualized, actionable Reports for each school. The 5Essentials system is based on more than 20 years of research by the University of Chicago Consortium on School Research on five components found to be critical for school success:
Effective Leaders: The principal works with teachers to implement a clear and strategic vision for school success.
Collaborative Teachers: Teachers collaborate to promote professional growth..
Involved Families: The entire school staff builds strong relationships with families and communities to support learning.
Supportive Environment: The school is safe and orderly. Teachers have high expectations for students and support students to realize their goals. Classmates also support one another.
Ambitious Instruction: Classes are academically demanding and engage students by emphasizing the application of knowledge.